From Renee Bucciarelli, Director/Developer of The Shakespeare Playground
My first introduction to Shakespeare was an unexpectedly random event: at the age of ten, I saw a group of teenagers performing The Merry Wives of Windsor at a playground I frequented in the summer. I didn't know at that age who Shakespeare was, but I did know I was spell-bound by what I was seeing and hearing. How were these kids—not much older than myself—able to express such a range of ideas and emotions in such explosively imaginative language? Who could have invented such incredibly intelligent, hysterically funny, motivated, and challenging women characters? Where could I see more of this? How could I do more of this? Thus began my love and study of Shakespeare's plays, which continued to grow despite a few less-than-scintillating (but rather typical) English class experiences that followed.
I have been teaching and learning things from many wonderful children and teens for my entire adulthood. The Shakespeare Playground's students have consistently and generously shared certain joys a theatre professional rarely encounters, but always hopes for: the joy of creating an ensemble in a non-competitive environment, and the joy of experiencing through an artistic medium the human conditions that affect us universally and connect us inextricably to each other. I am constantly amazed at how profoundly children and teens comprehend and relate to Shakespeare's humor and pathos. And constantly delighted by the freshness and originality of their insights.
Our work at The Shakespeare Playground aims to:
• Inspire a student's individual creativity in an ensemble setting,
• Activate young imaginations physically and verbally,
• And to help young people develop mutually respectful working relationships with their peers and teachers—all while exploring the work of the greatest author in the English language.

In humble 'playshop' settings, The Shakespeare Playground's participants attempt to model The Globe–the name of Shakespeare's theatre as well as our common residence–that we ultimately wish to inhabit.
This work and play continues to be "such stuff as dreams are made on…"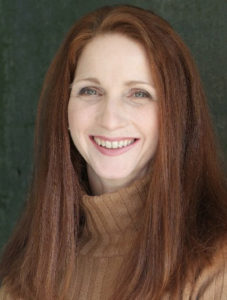 Visit Facebook.com/theshakespeareplayground for other thoughts, news, and updates.

About Renée Bucciarelli Currently a resident of British Columbia, Renée enjoyed a two-decade career in New York City theatre as an actor, director, teaching artist, and administrator. She performed extensively in classical and experimental theatres Off-Broadway and regionally in the United States, including with Theatre for a New Audience, Julie Taymor, New Jersey Shakespeare Company, Hudson Valley Shakespeare, and the Kings County Shakespeare Company (KCSC), with whom she was an Associate Artist for 17 years. Critical acclaim garnered in New York included kudos for her portrayal of The Duchess of Malfi, for the NY Fringe Festival world premiere of C.J. Hopkins' The Installation, and raves from The New York Times for her 'Kate' (Taming of the Shrew) and 'Helena' (Midsummer Night's Dream).
Bucciarelli's proudest moments while Associate Artistic Director of Kings County Shakespeare Company, Brooklyn, New York, (2000-2003) include producing a sold-out Lysistrata Project (an international theatrical anti-Iraq War event), and an acclaimed production of Hamlet, directed by Jemma Levy. She also created educational programming designed to interface with the students of St. Francis College, where KCSC resided, as well as with the diverse community that the company served.
The Shakespeare Playground™ is an outgrowth of the educational program Bucciarelli started at KCSC in 1996. Dubbed "the hottest" theatre workshop for children by The New York Post in 2000, this program was hosted annually by KCSC for over a dozen years, and by Shakespeare on the Sound (Rowayton, Connecticut) for eight. It was featured in all but name at the California Shakespeare Theater (Berkeley, California) in 2005, and has been in residence at many public and private schools and arts organizations on both coasts in the U.S. and Canada.
In British Columbia, she presently serves as producing Artistic Director of City Stage New West (www.citystagenewwest.org), where she produced a professional cast recording of Stump City Stories, an original Canadian musical by George Ryan based on the diverse history of New Westminster, commissioned by CSNW in 2009 to celebrate the City's 150th anniversary. In 2010, this Ovation Award-nominated musical was presented free of charge to 1500 New Westminster high school students, along with complementary educational programming. Directing highlights for CSNW include T.S. Eliot's Murder in the Cathedral, and Shakespeare's King Lear as part of a special project "Enduring Age/Enduring Youth", which brought together senior professional classical actors with emerging artists. As a Vancouver actor, she has performed a critically-acclaimed solo show about poet Emily Dickinson (http://www.fraj.com/belleofamherst/), appeared as 'Goneril' in a Jessie-nominated production of King Lear and in commercials and small roles on television.
An Honors graduate of Wesleyan University, and of the Eugene O'Neill Theater National Theater Institute, Renée has taught at The Brearley School (New York, NY), for Bard on the Beach (Vancouver, BC), and as an adjunct professor for St. Francis College (Brooklyn, NY) and the University of Rochester (Rochester, NY). In 2004 she chaired a panel on "Innovative Educational Outreach" for the Shakespeare Theatre Association of America. She is a Langara College (Vancouver, BC) certified hatha yoga teacher, and a recent graduate of Simon Fraser University (Education).